hello gang. it's been a long time since i've been on this forum. i've been on a bit of a journey finding a vehicle that suits me now and decided that it would be fun to come back here and talk cars with the old gang (assuming some of the 'old gang' is still around).
so several years ago i decided that my 4wd corolla wagon was more to my liking than the tercel and at that point, i basically lost my passion for t4's. i obviously still think they're fantastic cars and ogle when i see one on the road but i no longer have the interest to rescue any more of them. i found that the ones that i did fix up and sell wound up not being appreciated like i had hoped they would be, and that was really disheartening. i didn't want to put tons of effort in to save a rad old car from the scrap pile just to have it neglected or abused by its new owner.
so i happily drove my 4wd corolla wagon for 5 years. i loved that car -- correction, i still love that car. one xmas eve, a drunk driver bumped into the front driver side fender which pushed the fender back so i couldn't open the driver door. i straightened it out and all was fine after that. then my wife hit a deer with it last fall but i banged most of the dents out and had the spare parts to replace the broken headlight and corner light. and i didn't mind those little dents, i feel like stuff like that are like badges of honour for a vehicle that is serving its owner well. same with rust. so i've been really happy with the corolla.
but my wife and i recently bought a vacation property that is a 5 hr drive away, and we have a big dog and a lot of stuff that we have to bring up there each time we go so i wanted basically the same vehicle but with more cargo room. i liked the look of the nissan x-trail so i thought i'd give one of those a try: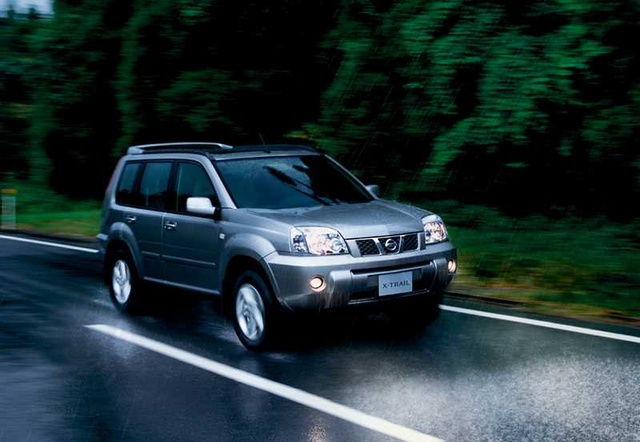 i found one for a good price and jumped on it. there was lots to like about it: surprisingly responsive and powerful engine that still got identical mileage to my corolla (despite being a 2.5L, amazingly), super smooth ride, heated seats, power mirrors, tons of cargo space, the rear seats folded down flat, all the various controls just felt nice to the touch...this was clearly an actually nice car. but i learned a few things with my x-trail: this car came from an area of BC where they use lots of salt in the winter and despite all my experience of working on rusty old tercels (i have always prided myself on being really good at breaking tiny, rusted bolts free without shearing them), i learned that vehicles that have been exposed to tons of salt rust in a totally different way. they don't just get a bit rusty, the affected metals either corrode so badly they turn to dust when you put a tool on them, or the nuts and bolts fuse together. then they will only shear off, and need to be drilled out, re-tapped, and new bolts installed. it was incredible, and very frustrating and disappointing.
the next thing i learned was that x-trails were only available in canada in north america, not the US -- and only for two years, in 2005 and 2006, and that meant that some parts were impossible to source around here.
i also ran into a few instances where the listed part #s for things like brake shoes and park brake hardware were incorrect across the board. everywhere i looked, they said "this is the part we have listed," but none of them fit the vehicle. i wound up having to go to the wrecker for park brake hardware. i didn't like that much.
another aspect not to be discounted is that driving a 'nice' car made me nervous. i worried about it getting dinged, and didn't want to lend it to my wife since she can be a bit hard on vehicles.
i ultimately decided that despite loving driving and using the x-trail, the cons outweighed the negatives. so i sold it.
next on my list of what SUV to try out was the first gen ('96-'00) rav4.
i was surprised how expensive they were for an older car but finally managed to find one with high km but in very good shape that had been well cared for. i bought it and immediately noticed that it was much smaller inside than the x-trail, and not as luxurious. i was initially disappointed. but it still felt like it was in good shape so i gave it the benefit of the doubt and bought it anyway. and after just a few days of driving it, i realized i really liked it. it has more cargo room than the corolla, plus the rear seats are really easy to remove if we have an exceptionally large load of stuff to bring to the new property. i like that it's so similar to the corolla in terms of its condition too -- it's old and worn enough that i won't lost my mind if my wife spills her coffee in it or when a new dent shows up. it is not as powerful or responsive as the x-trail but it is much more so than the corolla. and it's just a lot of fun to drive. it feels like i'm driving a toy somehow. and it feels comfortable to me, unpretentious. it feels like the logical extension of the 4wd corolla, and the 4wd tercel.
so after driving the rav4 for just a few days and really liking it, i moved all my junk into it from the corolla. in the middle of doing so, i realized, "jeez, i guess this is it -- it's time to sell the corolla." i listed it yesterday and have someone coming to buy it tomorrow. i'll be a little bummed to see it (and the mountain of spare parts for it) go but i feel good about the new chapter i'm starting with the rav4.
and that's where i'm at now. t4 --> ae95 --> x-trail --> rav4. i just wanted to share that.
hope everyone here is doing well and taking good care of their t4's.