Here is the first installment of the long awaited road trip. I returned home early Tuesday morning, January 12th at 12:50 am, from delivering my daughter to Austin TX, where she goes to school. We drove over 5000 miles, crossed three mountain ranges, braved snow, rain, ice storms, subfreezing weather and even had some sunshine. I also rescued an abandon '85 Tercel 4wd from Grand Junction CO along the way, repaired it and drove it home. That $100 Tercel4wd drove me almost 4,000 miles, through snow and ice and desert sun, it did not use a single quart of oil, got great fuel economy and took me home.
Over the next few days I hope to put the trip log up on this thread, with all the details and pictures for all to see. It was quite an adventure, fun at times, and trying too. Below is the "before" picture, starting at our home in Arlington WA. All of our travel gear, tools and spare parts, food and drinks, etc stuffed into a 1986 CRX.
Since my daughter wanted her car in TX, and I did not want her to drive all that way alone, I thought a road trip together would be fun. And I can always fix what ever might go wrong with a 25 year old car that might otherwise leave my daughter stranded. The poor little CRX was likely overloaded, it got relatively poor fuel economy over the first few days, about 31 to 32 mpg. Despite the stiff ride, the little car took it well and gave us no problems at all.
We bought this CRX about four years ago for only $75 and I proceeded to rebuild it. It was used by the previous owner as a parts car, and had a lot of missing parts, plus the engine had be dismantled and left outdoors for a least a year. It had not been driven in over 5 years when we got, and it sat in the back log of projects for another few years in our garage. Despite this, it was a good car to rebuild, the body was fair and it had no rust, and it was cheap. A rebuilt engine, parts from a $65 rust bucket parts car, new tires, brakes and a lot of parts from the local Pull-A-Part made it a pretty decent little two seater. Even though I was confident in it, it is still 25 years old, and despite my best efforts at replacing everything that might fail, there still could be an overlooked hose, seal or other minor part that could cause tremendous engine damage and leaver her stranded alone in a bad place.
My daughter named her car "Gir" after the loyal but somewhat dysfunction robot assistant of Invader Zimm (go look it up on YouTube). It is a good name for it.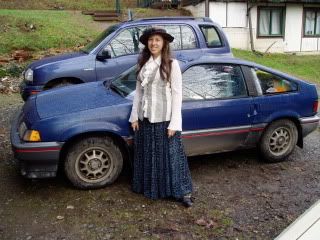 The little CRX "Gir" all loaded up and ready to go, notice the '94 Tercel seats in it! Our house in the background, and my '84 Tercel4wd in the foreground just showing in the corner of the picture is to stay home this trip.
In the days preceding the road trip, I had been working down a long list of little fixes I had been meaning to do to the car all year. On a 25 year old car there is an endless list of minor and not-so-minor items to check, repair, replace or adjust. One of the items was to replace the seats. The stock Honda seats are really uncomfortable, especially for a long drive. As good a car as Honda makes, I do not know why their seats are so badly designed, they make your butt numb and your back ache after only an hour, no way would a road trip be tolerable with the stock seats, let alone as a daily driver. Last summer, my daughter had spent and afternoon with me in the local Pull-A-Part sitting in different car seats seeing how they feel. A popular "upgrade" to the CRX is to put Prelude seats in it, they still need to be altered to fit, but at least they are Honda. Well, she did not like the Prelude seats either. She liked the best, of all things, the up-grade cloth seats from a 1994 Tercel, the most comfortable of the smaller seats we could find. They were a bit larger and not easy to adapt, it took me a month to get the driver's seat installed, I had to fabricate 3 out of the 4 mounts, and cold formed and redrilling the 4th mount. At least it was bolted in good and solid, the seat is also about an inch taller at the butt level, there is no way to make them any lower in the car. This is no problem for either of my daughters since they are only about 5' to 5'-3" tall. So visibility was improved for them, but it was a bit of a chore for me to slide in under the steering wheel, and I had less than a inch of head room, and I am only 5' 8" tall! So this car is no longer for tall people. Once I am in I can drive it no problem, and the '94 Tercel seats are firm and comfortable. But 3 days before we were going to leave the passenger seat was still waiting to be installed, I also decided to rebuild the rear brakes, replace a torn CV boot, and get the radio installed (one of the PO not only took out the radio, but also cut the wire bundle off, and I was not looking forward to sort out the mass of raw wires). I even had a nice Alpine AM/FM CD player I picked up at a garage sale a few years ago that my daughter would enjoy. Needless to say, the radio was low on the priorities list. Though a working radio is important for most collage age people, my daughter included, I just did not have time to get to it before we left.
I told my daughter if she needed anything fixed while in school, including getting the radio installed, find a boyfriend who is a car nut and have him fix it, and if he has no other redeeming characteristics, dump him after the CRX is repaired.
Sunday, January 3rd 2010. So all loaded up, after good by to friends and family, we took off Sunday afternoon about 2 pm, filled up with gasoline at the local ARCO station and got on the freeway heading for Yakima WA. It had been cloudy with an on and off light rain all day.
My daughter drove on the first leg of the trip so I can fiddle with finally installing the radio on the way. A family friend had marked the wires for me coming out of the back of the Alpine unit so I knew what went to where, it was a big help since I am not an audiophile and never paid much attention to fancy car stereos (they just attract thieves that do a lot of damage to your car getting at it). With the CRX wiring diagram in hand, my wire cutters and electrical tape, I managed to get the Alpine stereo installed and working by the time we got over Snoqualme pass, about 2 and half hours of driving.
We drove south on Interstate 5, through Belleview pm I-405, and than east on I-90 over Snoqualme pass of the Cascade range. I love mountain driving, I used to do a lot of climbing and skiing, activities I do not have much time for now, and I just can not stay in that good a shape either, but I can still enjoy the view. The last stretch over the pass was rather steep, and little Gir loaded up like that just could not keep up with the more modern higher powered cars, at least we were passing most of the big rigs crawling up the pass way over in the right lane.
It was snowing lightly over the pass, and the ski area was open for business. I once skied there a number of years ago, it is actually four smaller ski areas that were combined. It is still a rather poor ski area, badly laid out, not a lot of selection, short runs. Often with slushy wet snow, this pass is only 3,022 feet above sea level. And the best part of the combined area is over on the other side of the pass, called Alpental, you have to take a shuttle bus to it, wasting good ski time. Alpental is exciting with lots of steep alpine chutes, spectacular terrain, and not for beginners at all. It often rains at the pass too, making for miserable skiing, it was just above freezing when we made the pass about 4 pm. So the road was clear and passable for us, but unless you stay high on the mountain, the skiing conditions were likely poor.
As we approached Yakima about 5 pm, and it got dark, my daughter noticed the dash lights were completely dark, and complained about it. The dash lights worked before, and most cars have the tail lights wired with the dash lights, so if the tail lights are out you will notice the dash lights are not working too. Oops, there must have been a dash wire in the Honda wire bundle that I shorted. The factory radio must have had a light wired to the radio so it would dim along with dash lights, so I pulled the radio out and put electrical tape caps on all the unused wires. At the next gas stop, in Yakima, I popped in some new fuses (I brought lots of extra spare fuses in my "kit"). All is good again, now all we have to do is get a mounting kit to permanently mount the stereo rather than have it wedged into the hole in the dash. But at least the radio works.
The week before Yakima was hit with a big snow storm, so the landscape was all snowy. Fortunately for us, it was above freezing and all of the roads were clear but very wet.
We arrived at our friends' house with plenty of time for dinner, we had a good visit with Anna and John and children over dinner, than playing a game after until late. They let us stay in their guest room. It was once a larger farm house attached to a much bigger piece of land, now all subdivided into a high density nationhood. All of the adjoining houses are much smaller and of newer vintage than Anna and John's house. It is much nicer to stay with friends on trips like this, it saves a lot of cost too.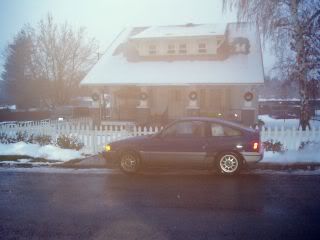 First stop: Anna and John's farm house in Yakima, with Gir out front. Sorry for the poor image, the light was fading and it was foggy out, this was the best shot I could get.
Monday, January 4th 2010: Up at 7 am, a quick shower and a relaxed and simple breakfast of cereal and fresh berries got us on the road by 8am. We filled up at the local ARCO station, and were on our way on a foggy and rainy morning. Unfortunately I did not get a lot of pictures in Yakima or on the road most of the next day since it was so damp and foggy. It was poor day for photography, the long distance visibility was poor. Pictures tend to look muddy and cloudy.
More to come....