As for checking the timing, pull the top timing cover and turn the engine until the cam timing marks line up. See the FSM for a picture of the marks.
http://tercel4wd.com/fsm/1985_Manualindex.html
go to page tabs and page 43. Then check to see if the timing mark on the pulley lines up with the 0°TDC mark on the lower timing belt cover. If it doesn't, then you are going to have to go in further and pull the lower timing cover and check the marks on the lower timing gear.
If the marks do line up, you are at TDC for the number 1 cylinder. Pull the distributor cap and see if the rotor is pointing directly at the No 1 post on the cap. If it isn't then pull the distributor and line up the shaft gear. Turn the rotor till its near where the No 1 post should be with the cap on, on the, the pin that holds it in place should line up with a mark on the body of the distributor.
While the distributor is out, this would be a good time to check the mechanical and vacuum advances. Hold the lower timing gear and turn the top of the rotor. It should twist some, if not, put some light oil on the weights located under the bottom plate. Spray oil on everything under there, it won't hurt anything.
You can see the plate the vacuum advance is moving by looking at the arm coming from the vacuum advance. Move this plate in the direction that pushes the arm toward the vacuum advance. If it won't move, oil it till it does. Then check to see if you get a puff of air from one of the ports every time you move it in. If so, you are ready for the next step.
Insert the distributor. Turn the engine so that the timing mark on the pulley lines up with the 5°BTDC mark on the lower timing belt cover, then turn the distributor body till the ignitor lines up with a vane like this.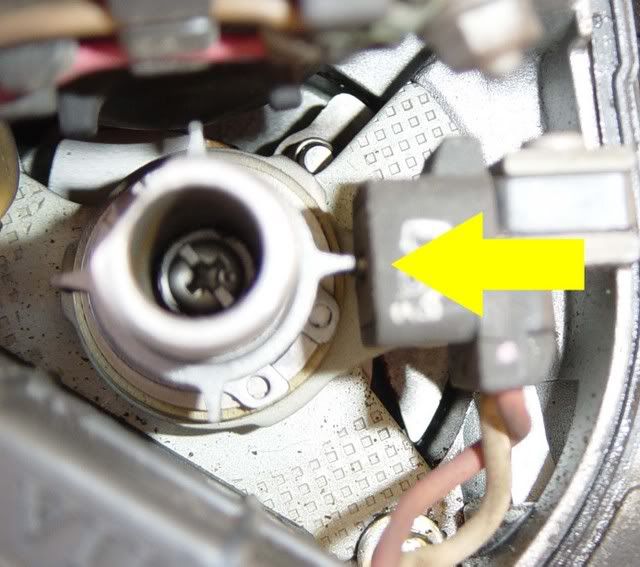 After you tighten everything down, start the engine, the timing light should show the timing mark at 13° BTDC with the vacuum lines connected, 5° without.