These are two shifter boots that I just installed.
Yes,
I
sewed them! Since this was the first sewing I've done since I wore a green suit "back some years ago," I will strongly suggest that this be done by a sewing machine instead of by hand. The advantages are stronger joining and one
heck
of a lot faster!
Actually, the 6-speed lever was not too bad, as the pieces were larger and easier to manipulate; the 4WD boot was "challenging" as it, like the other, is made from four pieces and is a lot smaller and a PITA to manipulate. I sewed both inside out and then inverted them.
I made the larger boot 1 " longer, as it fits tighter than the cloth OE. The smaller one had to be the OE size, as the knob interferes.
I used what I
think
is called a "back stitch," but I dunno for sure; it seems like it made sense, anyway...
The bottom of the larger boot is sewn around a wire frame that is clipped into the console. The smaller is glued to the inside of the console - when you look at it, you will notice this. This was a real PITA to do; think about it before you try.
One tricky part was how to size the pieces. Then the light bulb went off

- I needed a pattern, and what is a pattern but a copy! So I carefully cut apart the pieces, laid them on the scanner and printed out - a pattern! These were the exact sizes, so all I had to do was lay them on the vinyl and cut away.
The really good news is how well the color of the vinyl matches!
This is a product of the Naugahyde Company and is part of the Whisper line called "Capuccino." It is available at just about every fabric store; I got mine at a local outlet of Jo-Ann Fabrics, a national chain. It is sold by the yard, and buying a 1' length gave plenty, as it is 54" wide. The regular price is about $17 running yard, but was on sale for $8.50, so as I only needed 1', it only cost $2.83!
This Whisper vinyl comes in many colors and has a cloth backing. It is used for various types of seating, including boats and cars, so should be durable. It was actually pretty easy to use.
I might cover the sun visors next and then...
Tom M.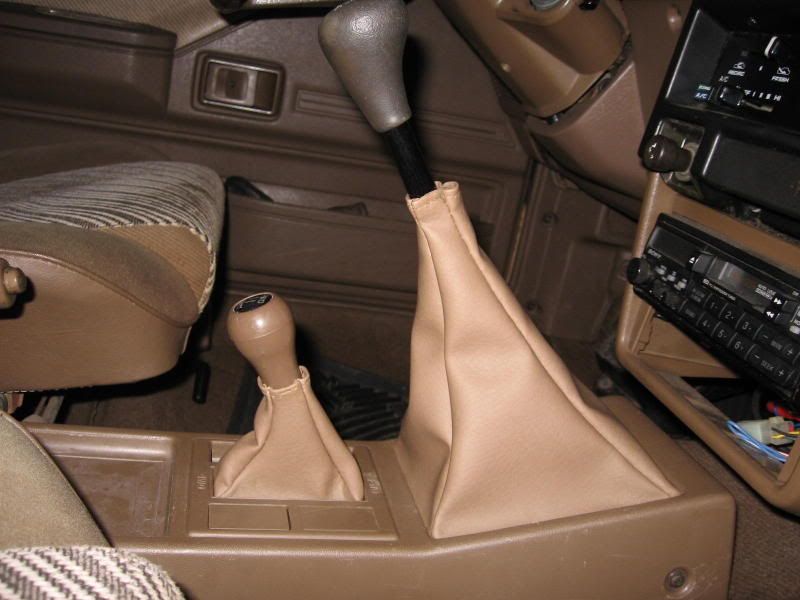 > > > SEE EDIT BELOW FOR BOOT PATTERNS & INFO < < <