Hey all,
I copied these off of the "New wheels!" post because I thought the spoiler discussion deserved its' own thread.
Post by Petros » Wed Jan 16, 2019 1:07 am
it is home made. it is just a piece of 1/8" or 3/16" ABS plastic that I cut out from a cardboard pattern. I used a heat gun to turn down the ends to match the hatch corners. than used two sided foam tape to hold it on. It kind of updates the look at the rear hatch like the newer cars. could not tell if it reduced drag at all, but it did seem to allow more dust accumulation on the back window.

Easy to make, but too time consuming to make them to sell at a reasonable profit.
Post by Abletobecain » Wed Jan 16, 2019 10:58 am
Well it sure looks great. I just got a heatgun for various projects...might have to try it out.
Here is an older pic of Peter's' car from the thread, I believe he is running the MR2 wheels now as seen in his avatar.
This second image is from the forum, but HomeSkool hasn't visited in nearly a year and a half. Ironically enough, his last post related to adding a bumper hitch to the Tercel for pulling

???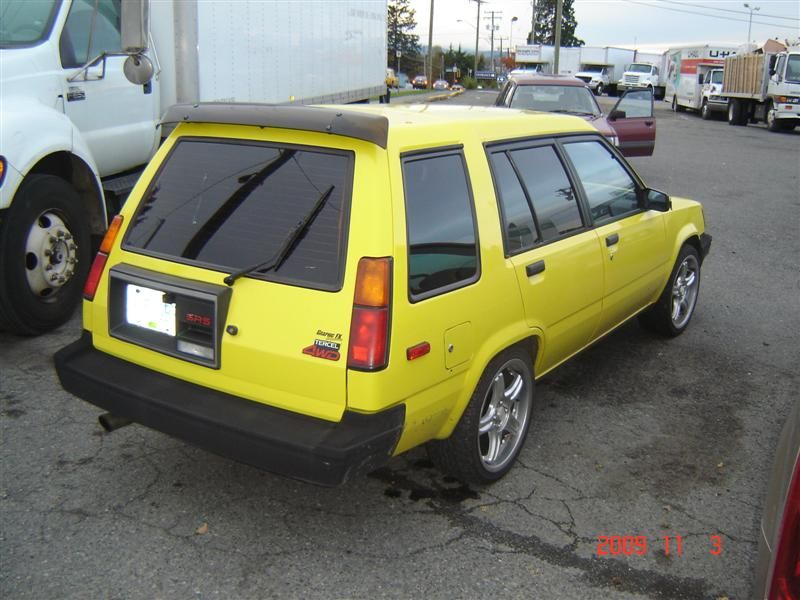 I do like the look, but I think I prefer the luggage rack or more likely a JY luggage rack on top of the Tercel and I don't know that they would look good together.
Chris