Highest Ranking Member
Posts: 1316
Joined: Tue Aug 17, 2004 12:11 am
My tercel:: 1988 Corolla 4wd Wagon (AKA Corolla All-trac) 5speed, AC, Power Sunroof, Windows, Mirrors, Steering, Locking, Diff Lock, 14" Corolla SX Alloys with Silica Hankook Tyres, 4afe, King Springs, Upgraded Headlights, Full Synth oils, 210,000kms
Location: Melbourne, Australia
https://www.gumtree.com.au/s-ad/heathri ... 1151070280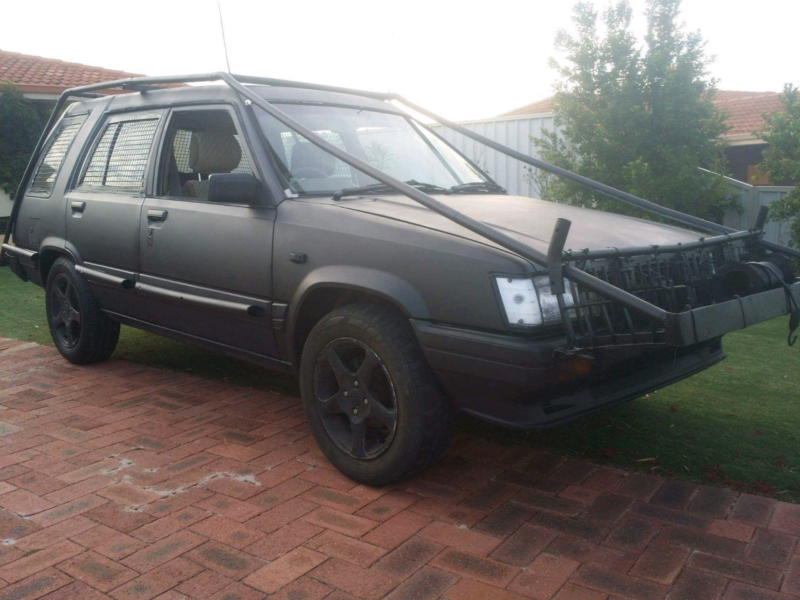 and here's the video it was built for
https://www.youtube.com/watch?v=KqiBbTDRSzo
actually looks pretty cool even if the roll cage is pvc pipe.
Previous: 83 Tercel SR5 4wd, 84 Tercel SR5 4wd
88 Corolla 4wd Wagon 5speed, All power options, Fact Sunroof, Diff Lock, 14" SX Alloys, Hankook Tyres, 4afe, King Springs, Upgraded Headlights, Full Synth oils, Tow Bar, 210,000kms
---
Highest Ranking Member
Posts: 6121
Joined: Sat Apr 30, 2005 1:52 pm
My tercel:: Goldie is a 1986 SR5 attualmente con Weber/also owned the first T4WD in STL in late '82
Location: Kirkwood, a 'burb of St. Louis
MEAN !
Now, if I had a garage for three vehicles, I would search for a sibling of Goldie's and do the Mad Max mufti!
Tom M.
T4WD augury?
Oh, do not ask, 'What is it?' Let us go and make our visit
.
T.S. Eliot - "The Love Song of J. Alfred Prufrock"
Now and then we had a hope that, if we lived and were good, God would permit us to be pirates
.
Mark Twain
---
Top Notch Member
Posts: 419
Joined: Fri May 22, 2009 8:52 am
My tercel:: 1986DLX (K.I.A. by a Texting Driver, currently being uses as a parts car) 1986 SR5 AC, Cruise, Sunroof a.k.a. TERC II Electric Boogaloo (restoration in progress). 1984 SR5
Location: Boise, ID
How far of a drive is it from Bartertown to Perth?

---